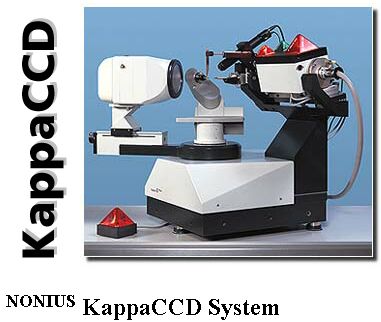 The Instrument:
is the most modern, state-of-the-art, single crystal X-Ray Diffractometer.
has an ingenious Kappa geometry which
provides additional freedom to orient the crystal with zero obstructions!
is the most computerized in the market, including:

Computer-controlled Detector Movement.
Fully-integrated Low Temperature device (for the best available device).

is connected to networked multi-user Linux Systems allowing remote access.
Data collection times:
For a big, good quality, strongly diffracting crystal with high symmetric crystal system, the data can be collected in as little as 10 minutes! But for a small, weakly diffracting crystal with low symmteric system, the data collection may take several hours.
The low & high extremes of the times we have used so far: 8 minutes & 48 hours (prior to data processing)
The most common data collection time range: 1-4 hours.

In the earlier day diffractometers, it used to take minimum of 12 hours to more than a week (with 2-3 days being normal) for similar data collection. Also many times small crystals could not be used at all, despite whatever time we were willing to spend.
---
Features:
Low noise, high sensitivity CCD detector
Fast readout
High precision four circle Kappa axis goniometer with maximum flexibility
Automated (motor driven) Detector to change detector distance
All axes, including distance movement, under computer control
High speed shutter
video microscope (not color)
Benefits
Easy and straightforward data collection in a few hours or less
Short exposure times, yet high signal to noise images and data sets
Small dead time, high throughput, high efficiency
Optimal orienting of sample for most efficient data collection strategy
All orientations of the crystal accessible for face indexing and calculation of numerical absorption correction
Four scanning axes available
Alignment of crystal, screened precession pictures and axial photographs for verification of lattice parameters and diffraction symmetry
Both wide- and fine-slicing modes supported
For more information on the KappaCCD system visit the KappaCCD page at Nonius